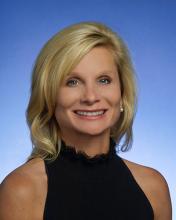 Janet Ayers is a recognized business leader and philanthropist throughout the State of Tennessee, with over twenty years of experience in health care administration.
In 1987, Mrs. Ayers began her career in Health Care Administration at Four Oaks Health Care Center. After five years of service, she assumed the Administrator position at Erwin Health Care in Erwin, TN, a position she held for the next 15 years. She was an active member of the Tennessee Health Care Association (THCA) and received the Distinguished Professional Service Award and the Distinguished Association Service Award. She held multiple statewide positions at the organization, including President of THCA. She also served as a commissioner of Tennessee Health Facilities Commission for five years.
In addition to her health care interests, she is active in a number of civic, educational and charitable organizations. Mrs. Ayers is an active board member of Centerstone, Centerstone Research Institute, Abe's Garden, The Ayers Foundation, Nashville Symphony, Unicoi County Economic Development Board, United Way of Metropolitan Nashville and United Way of Unicoi County. She and her husband are the shared recipients of the Association of Fundraising Professionals '2007 Philanthropists of the Year Award.
In 2007, Mrs. Ayers became the President of The Ayers Foundation. The Ayers Foundation is dedicated to improving the quality of life for the people of Tennessee with a special emphasis on Decatur, Henderson, Perry and Unicoi Counties. The Foundation believes this is best accomplished by providing grants for scholarships, counselors, programs and related projects for educational enhancement, innovative health care and by supporting organizations dedicated to the preservation of our natural resources and wildlife habitats for hunting and fishing.
Mrs. Ayers received her bachelor's degree in Health Care Administration from East Tennessee State University in 1986.
Sessions presented by this eduTOOLBOX contributor: