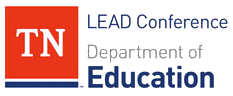 Event location:
Music City Center; Nashville, TN
The annual LEAD Conference gives school and district leaders a chance to share and discuss effective practices happening every day in Tennessee schools. With valuable first-person examples, educators from across the state share their best ideas for preparing Tennessee's students for college and careers.
The LEAD Conference will take place Oct. 15-17, 2017 at Music City Center in Nashville, TN. The theme of the LEAD 2017 this year is LEADing the New Normal. The focus of LEAD 2017 will be to prepare and support education leaders in the new normal mindset. Focus strands are Standards Professional Development, High School Pathways, Effective Literacy, Middle School: the Bridge to Success, Educator Effectiveness.
The goal for LEAD 2017 is to offer peer-led sessions that highlight districts and/or schools with an exemplary Kindergarten-to-job commitment. Featured schools and districts will embrace the strategic plan, support strong instructional practices aligned to standards and assessments, and move their students from kindergarten to post-secondary success.